CCL Recruitment 2020
Central Coalfields Limited (CCL)  has released a notification for the recruitment of  750  contractual posts of Apprentice.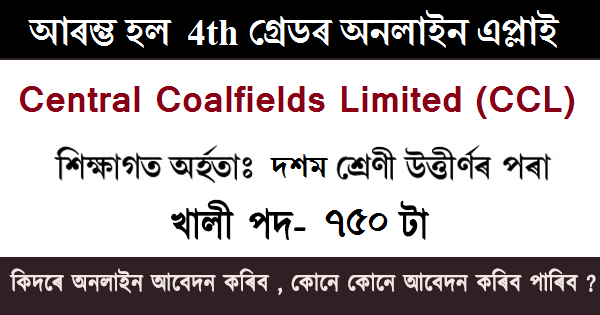 Those who are interested and qualify can apply online until October 15, 2020, but only after making sure they meet the requirements. We discuss all the details regarding this Vacancy in this article .
Post Name – Apprentice
Total Post – 750
Online Apply Start Date – 16-09-2020
Online Apply Close  Date – 15-10-2020
Age: 
Candidates should have minimum 18 years and maximum 30 years
Mode of Selection  :
On the basis of personal Interviews after shortlisting on the basis of qualification.
Educational Qualification :
Fitter – 10th with ITI
Welder – 8th pass  with ITI
Electrician – 10th with ITI
Mechanic( Repair & Maintancc oflleavy Vehicle) – ITI
Computer Operator and Programming Assistant – ITI
Pump Operator Cum Mechanic – ITI
Machinist – ITI
Turner – ITI
Application Fees 
No Application fee.
How to Apply :
Interested candidates with qualifications may apply online for concerned posts as per given online application form. No need to send print to Central Coalfields Limited at this stage.
Information about the Ad: Click Here
Online Application – Click Here
Other Goverment Jobs 
DTE, Assam Recruitment 2020: Apply Online For 168 Grade III Posts 
Industries & Commerce, Assam Recruitment 2020 : Apply Online For 245 Enumerator Vacancy
SSC Constable Recruitment 2020 : Apply Online For 5846 Vacancy
PNRD, Assam Recruitment 2020 : Apply For 1004 GP Secretary, Tax Collector & Jr. Assistant, Asstt. BDO, Vacancy
Social Welfare Assam Recruitment 2020 – Apply For 37 District & Block Level Vacancy
N.F Railway Recruitment 2020, Apply Online for 4449 Vacancy
ECIL Recruitment 2020: Apply Online for 285 Vacancy
SEBI Recruitment 2020: Apply Online for 147 Grade A Officer Vacancy
Airports Authority Of India Recruitment 2020: Apply Online for 180 Junior Executive Vacancy
IBPS Recruitment 2020 : Apply Online For 1558 Clerk X Vacancy
DHS, Assam Recruitment 2020 : Apply For 128 Grade-III Vacancy