Deputy Commissioner, Bongaigaon has released an employment notification to hire candidates for the  SVAYEM Sahayak vacancy under the Re- designed Swami Vivekananda Assam Youth Empowerment Yojana (Re- SVAYEM) Scheme.
Interested and Eligible Candidates may apply online by 18-10-2020 , after ensuring that they match the relevant qualifying conditions.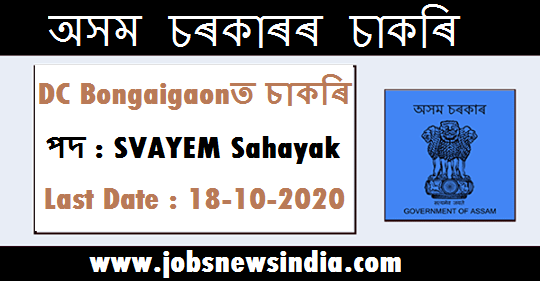 Date of opening of online application submission : 10.00 AM 16.10.2020
Last date of online application submission : 5.00 PM 18.10.2020
Deputy Commissioner, Bongaigaon Recruitment 2020
Name of post: SVAYEM Sahayak
Age: Minimum 21 years as on 01.01.2020 and not more than 36 years of age, on date of publication of the Advertisement.
Eligibility Criteria:
The applicant must be a Bongaigaon Districts Educational permanent resident.
Qualification & Experience:
(i) Graduate in any field with a Certificate of a one-year Computer diploma course.
(ii) Good oral and written communication skill in Assamese language.
(iii) Good computer skill.
(iv) Willingness to travel to remote areas of the district by self means.
Remuneration: Fixed pay of As. 25,000/- per Sahayak for 6 (six) months.
How to apply:
1. Interested candidates can apply online by visiting the district website http://bongaigaon.gov.in or the link https://niyukti.assam.gov.in/bongaigaon.
Advertisement Details: Click Here 
Apply Online: Click Here