Deputy Commissioner, Kamrup, Amingaon has released a notification for the recruitment of 2 SVAYEM SAHAYAK vacancy on Contractual Basis for a period of 06 (Six) Months for the Re-Svayem Scheme under the O/o of the Deputy Commissioner, Kamrup, Amingaon.
Interested and Eligible Candidates may apply  , after confirming that they fulfill the relevant eligibility requirements.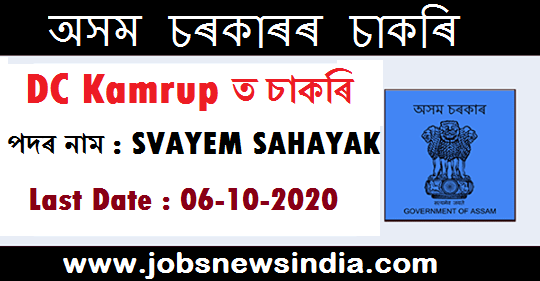 Deputy Commissioner, Kamrup Recruitment 2020 :
Name of post: Svayem Sahayak
Last Date : 06-10-2020
Job Function:
To facilitate the implementation of the Re-Svayem Scheme
Eligibility Criteria:
a) He/She must be a permanent and current resident of Assam
b) He/She must preferably have good oral and written communication skills in Assamese and English.
c) Preferably, he or she should have a working laptop of their own.
Age Criteria :
He/She should be more than 35 years of age on the day of publication of the recruitment advertisement.
Remuneration:
Monthly fixed remuneration of Rs. 25,000/- (Rupees Twenty Five Thousand) only per month. There won't be any TA or DA for attending the interview.
Educational Qualification:
a. He/She should be a Post Graduate in Management/ Economics/Social Work.
b Preference shall be given to candidates from National institutes and having prior work experience.
How to apply:
Candidates have to appear for Walk-in-Interview to be held on 6th October from 11 AM onwards in the District Development Commissioner's Office, Amingaon, Kamrup.
Documents required:
Original certificates or documents attesting to the applicant's age, address, education, and work experience must be produced during the interview. Self-attested photocopies and a recent passport-size photo must be sent with the application in Standard Form as published in the Assam Gazette in Pan-IX, together with an updated resume. Applicants must include their phone number and email address on the application.
Interview schedule:
Date: 06/10/2020
Time: 11 AM
Venue: Office of the District Development Commissioner, Amingaon, Kamrup
Advertisement Details: Click Here