Excelcare Hospital, Guwahati Recruitment 2020:
Excelcare Hospital, Guwahati has released an job notification for the recruitment of 2 IT Executive vacancy. Candidates who are interested and qualified may submit an online application by September 30, 2020, provided they fulfill the relevant qualifying requirements.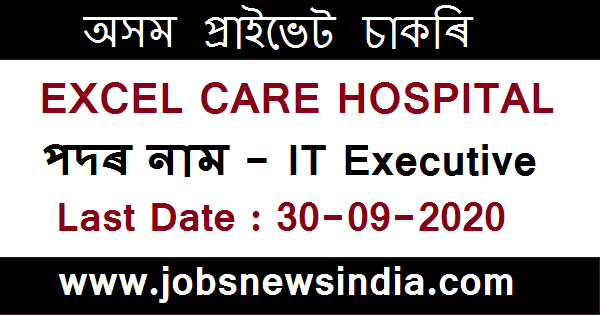 Last date for Apply : 30 September 2020
Name of post: IT EXECUTIVE
No of posts: 02
Pay/ stipend: 2.00 to 2.4 Lakhs per annum
Age: 30 years or below
Educational Qualification: BCA, B.Sc-IT, MCA, B.E\B.Tech-IT\CSE. Non-IT degree holder with IT certification such as CCNA /MCSE /ITIL may also apply.
Experience: 1-4 years
Job Description:
1. 24 x 7 IT Operation support.
2. Must be a good learner, Team player with very good communication skill.
3. Must handle end user support profile. (Support for Desktop, Laptop, LAN, VOIP, Printer, Barcode Machine, ERP etc.)
4. Knowledge of Server Administration\Network Administration.
5. Infrastructure management (Cabling, LAN setup etc.)
6. Expertise on Computer Hardware (Desktop, Laptop), printer & user support.
7. Knowledge of VLAN configuration, Port mapping, port forwarding, NAT etc.
8. Asset management, periodic preventive Maintenance.
9. ITIL guided process, IT documentation adherence and management.
10. Must have knowledge on WordPress website administration, SEO & digital marketing.
How to apply: Interested parties may apply in person by bringing a paper copy of their resume to the HR Department, Excelcare Hospitals, Boragaon or share the same with the Manager – HR at healthcare.guwahati@gmail.com or can book their interview on https://rb.gy/6fdigg
Candidates are requested to cite "AssamCareer.com" in their résumé to ensure verification.