A notice has been posted by the Directorate of Health Services (DHS), Assam, regarding the recruitment of 540 Staff Nurse (Critical Care) vacancy for 27 (twenty seven) (CU units in different dedicated COVID-19 Hospitals of Assam, under the formation of the Assamese Directorate of Health Services.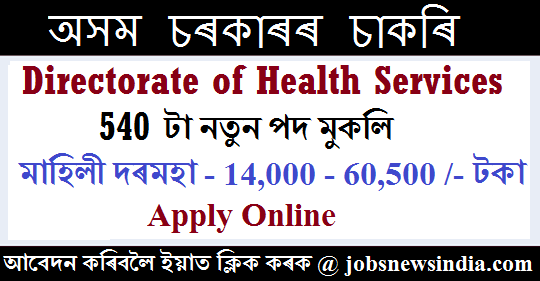 Interested and Eligible Candidates may apply online by 17-10-2020 , after confirming that they fulfill the relevant eligibility requirements.
DHS, Assam Recruitment 2020 :
Name of post: Staff Nurse (Critical Care)
Number of posts: 540
Educational Qualification:
(a) Being a registered member of the Assam Nurses' Midwives' & Health Visitors Council is required, as well as having a GNM Diploma or B.Sc. (Nursing) degree or above from any institute or nursing college recognized by the Indian Nursing Council.
(b) Applicant should have experience of working in ICU (Intensive Care Unit) at the very least for a year.
Pay: Rs. 14,000- Rs. 60,500, GP: Rs. 6800

Age: Candidate should not be less than 18 years and not above 40 years of age as on 01.01.2020. The upper age limit in relaxable for 3 years for OBC and 5 years for SC, ST(P), ST(H) Candidates only.
How to Apply for DHS, Assam Staff Nurse Recruitment 2020 :
Interested candidates shall have to fill up the online Application Forms available at the official website of the Directorate of Health Services, Assam (www.dhs.assam.gov.in).
The online applications will be accessible from October 3, 2020, to October 17, 2020, at midnight on the Directorate of Health Services, Assam official website (www.dhs.assam.gov.in).
At the time of document verification, the original copies of the following documents—along with photocopies of all certificates, etc.—must be submitted.
(a) 2 (two) copies of recent passport size colour photograph duly self attested.
(b) Birth Certificate/ HSLC Admit/ HSLC Board Pass Certificate for age proof.
(c) All pass certificates from Boards/ Universities, etc.
(d) Caste Certificate (where applicable)
(e) Certificate of Permanent Residency or Domicile (if applicable)
(f) Employment Exchange Registration Certificate.
(g) Certificate for the Economically Weaker Section (EWS) (if applicable)
(h) Nursing Registration Certificate authenticated by the Registrar, Assam Nursing Council.
(i) Experience Certificate working in ICU.
Advertisement Details: Click Here 
Apply Online: Click Here . [From 03.10.2020]