ONGC Foundation Scholarship 2021
ONGC Foundation Scholarship/s are financial assistance provided to students in various formats to cover their academic and related expenses. Scholarships are provided mainly for three purposes – to promote talent, to provide financial assistance and to keep students from dropping out of education system.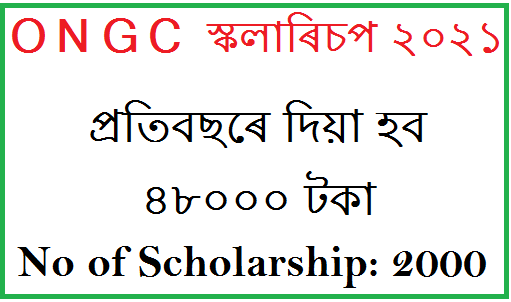 Students are selected for scholarship benefits on the basis of either of the fulfilling criteria laid by the Foundation. Students pursuing professional courses in Engineering, Medical stream and Master's degree course in Business Administration, Geology and geophysics are eligible to apply for these scholarship.
ONGC Foundation Scholarship 2021 Details
Name of scholarship: ONGC Foundation Scholarship
No of scholarship: 2000
Category-wise scholarship distribution:

# General: 500
# OBC: 500
# SC/ ST: 1000
Academic session: 2020-2021
Application mode: Online

Last date of submission of application: 6th August 2021
Official Website: https://ongcscholar.org/

Eligibility Criteria of ONGC Foundation Scholarship
Nationality: Candidates must be an Indian citizen.
Age limit: Not be more than 30 years of age as on 1st July 2020 .

Educational Qualification: Candidate should be a student of 1st year of Graduate Engineering or MBBS courses or 1st year of Master's degree in Geology/Geophysics or MBA. The scholarship shall be admissible only for pursuing full time regular courses by AICTE/ MCI/UGC/Association of Indian Universities/State Education Boards/State Government/Central Government.
Type of course: All courses must be recognised full-time course only.
Percentage: Candidates must have secured a minimum 60% marks in class 12 for Engineering/MBBS course and a minimum of 60% marks in graduation for PG courses in Geology/Geophysics/MBA (Note: The minimum OGPA/CGPA should be 6.0 in 10 points scale of grading system) .

Gross annual family income: Candidates is to have a gross family income of less than
a) SC/ST: INR 4.5 Lakhs per annum from all sources.
b) OBC: INR 2 Lakhs per annum from all sources.
c) UR: INR 2 Lakhs per annum from all sources.

Scholarship Amount: All selected meritorious SC/ST, OBC and UR category students will receive an amount of Rs 48000/- per annum each.
Selection Process of ONGC Meritorious Scholarship
# Selection of candidate will be made on the basis of aggregate marks obtained in the qualifying examination prescribed for each eligible course of study. In case of students having equal marks in the qualifying examination students with lower family income will be selected.
# Preference shall be given to students from below poverty line (BPL) families and other students shall be considered only if sufficient number of students from BPL families fulfilling the eligibility criteria is not available.
How to Apply for ONGC Scholarship ?
Interested and eligible candidates who wish to receive ONGC Foundation Scholarship for meritorious students may follow below mentioned step to apply for ONGC Scholarship.
Step 1: Scroll down, go to ONGC Scholarship Form.
Step 2: An online application form will be opened.
Step 3: Enter your all personal and educational details.
Step 4: Submit the application form and take a print out.
Step 5: Complete application with all the supporting documents as mentioned in the application form duly certified and attested by their Head/Principal/ Dean of the Institute/ College/University need to be uploaded and same required to be shared in hard copies, should reach the designated office of ONGC as per the details given in application Format.
Documents to be submitted with ONGC Scholarship Form
Following documents are to be submitted by students along with application form:
# Certified copy of Caste Certificate in Hindi/English.
# Copy of Birth Certificate/Class 10 Mark sheet as proof of age.
# Copy of Class 12-mark sheet in case of Engineering/MBBS students.
# Copy of consolidated Graduation mark sheet in case of MBA/Master's in Geology/Geophysics students.
# Certified copy of annual income certificate of the family in Hindi/English language.
# Bank details of the applicant in the ECS form attested by the bank as prescribed.
# Copy of PAN card or the tentative date for submission of PAN card copy (in case it is not available.
# Copy of Aadhaar Card
# Copy of undertaking.
Important Dates of ONGC Meritorious Scholarship 2021
# Starting date of submission of online application: 7th of July 2021
# Last date of submission of online application: 6th of August 2021
Important Web-Links of ONGC Scholarship